---
Sample Assignments

New! View an 8-part lesson plan using Sage Research Methods content for an Intro to Qualitative Methods course, developed by Sage author Janet Salmons. Available  here.
New! Sage author Janet Salmons has developed an instructor's guide for using Sage Research Methods in Online and Hybrid Teaching. Available here.

View all sample assignments here .
---
User Guide and Tips
Insider's guide to getting the most out of the platform: metadata tags, research tools, Sage Recommends and more!
Tips for incorporating non-traditional content types into lessons.
How-to guide for sharing content with students and colleagues through the Sage Research Methods platform.
Instructor's guide for using LTI to add SRM content to your online course directly from the Course Management System.
---
Using Sage Research Methods in Common Courses
A specially curated resource to help you use Sage Research Methods content for common courses in . . .
---
Answers to the most common faculty questions.
---
Additional Sage Resources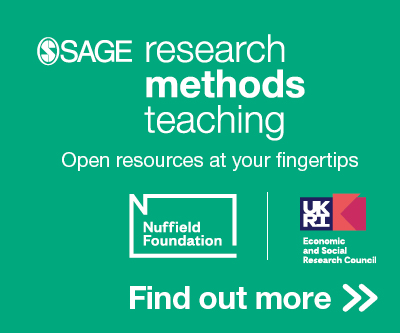 Sage Research Methods Teaching helps you find materials and get inspiration from other lecturers who teach quantitative methods courses at undergraduate and graduate level. Jointly developed by  Sage Publishing, the  Nuffield Foundation, and the  ESRC, with extensive input from coordinators and lecturers based at the  17 Q Step Centres in the UK. Sage Research Methods Teaching currently hosts over 1000 FREE to use files, covering topics including data analytics, modelling, and descriptive statistics. Watch our short demo to see just how quick and easy it really is!
Explore the FREE Resources Now!
---